DIRECTOR'S MESSAGE

Despite the lock-down and inability to meet face to face, Sephardi Voices has been busier than ever thanks to virtual connectivity. Over the last few months, we have hosted and were partners in multiple Zoom events and webinars. They have ranged from local synagogues, to national organizations like Israel Bonds; from Genealogical societies to Jewish film festivals in New York, Philadelphia and South Florida. In March, Sephardi Voices, for the first time, was awarded a Florida Humanities Grant that enabled us to plan two webinars. SV hosted its first event ever in Spanish—"Desde la Inquisicion Espanola hasta Miami: Historias personales de Hispanos en Miami" (From the Spanish Inquisition to Miami: Personal Stories of Hispanics in Miami).  Led by Genie Milgrom, a Cuban born Catholic who traced her unbroken maternal lineage 22 generations going back to 1405 to Spain, she reconverted back to Judaism and published the award-winning book, My 15 Grandmothers.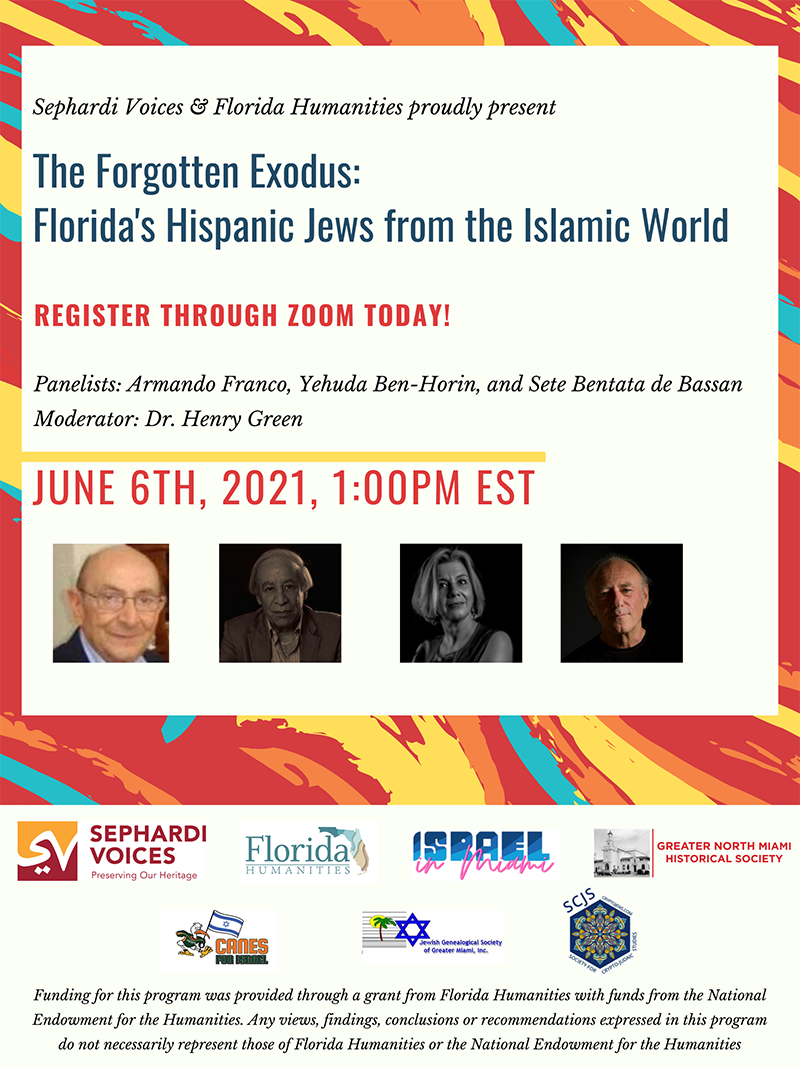 Sunday, June 6th is the second webinar: "The Forgotten Exodus: Floridian Hispanic Jews from the Islamic World" highlights three Sephardi from South Florida whose portraits were exhibited at the Miami Wynwood Gallery SV exhibit just before Covid struck in February 2020. Each personal story illustrates not only their displacement of Jews from Islamic lands but also their displacement from Hispanic lands (Spain, Cuba and Venezuela). To register, click here.
These Zoom events have enabled thousands to join us on Eventbrite, Facebook and Instagram live and share the Sephardi Voices mission in raising the human rights story of the Sephardi.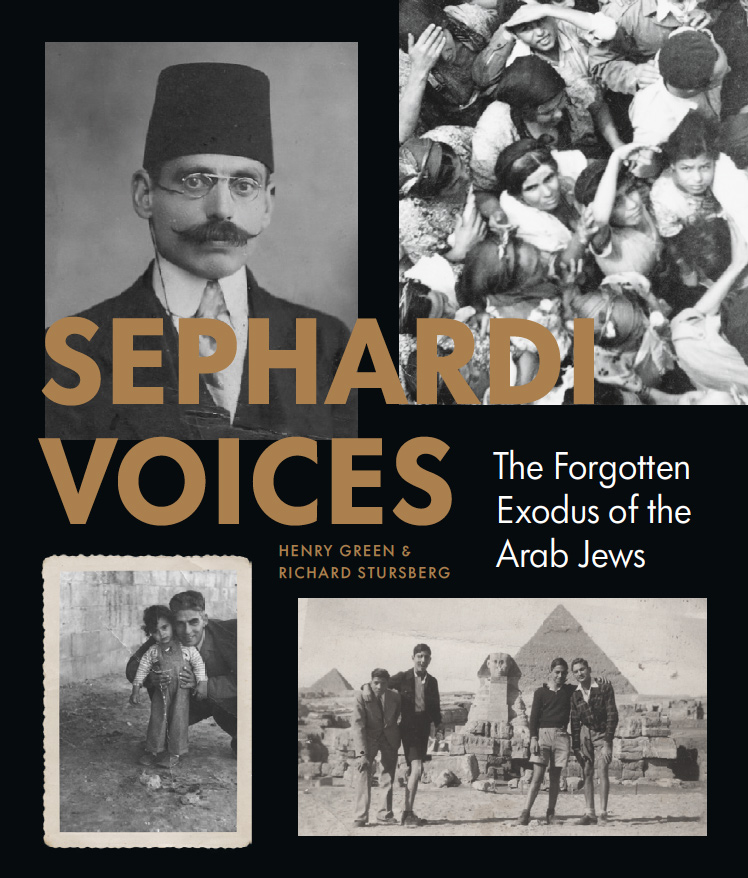 In the months ahead, SV will be moving forward with the National Libraries of Canada and Israel, returning to conducting interviews, and more exhibits.  We are especially excited about launching our first book, Sephardi Voices: The Forgotten Exodus of the Arab Jews, scheduled to be in bookstores and available online in early November, pre-Hanukah.
Henry Green
Executive Director
ISRAEL DIRECTOR'S MESSAGE
Dear Friends,
Central to the mission of Sephardi Voices is storytelling and sharing personal tales of lives lived as Jews in Arab and Muslim countries. Through these stories, we believe, Jews and non-Jews around the world will be educated, moved, and inspired to ensure the storytelling continues from generation to generation.
Today, we relish the memoirs of the many Jews who recall their experiences in their home countries. Before Passover, I reread André Aciman's Out of Egypt, which deftly drops the reader as if by parachute right into the author's childhood in Alexandria. I delighted in his descriptions of the city and its diverse population and smorgasbord of characters and felt his pain at leaving his beloved city behind. Sitting on my balcony in a Tel Aviv suburb and reading about Alexandria—a mere 300 miles away as the crow flies—I also felt the impossibility of reaching the place Aciman describes, because the place he describes no longer exists.
What memoir does—in addition to offering the author a vehicle to express something inside of him or her—is to ensure that a little bit of 'that place, that time' exists in every reader on the receiving end. As those who remember their experiences age, fewer and fewer memoirs will be written and what is written will have to suffice in ensuring the history is not forgotten. I keep wondering whether the next generation will connect to the history of Sephardi and Mizrachi Jews. Whether the demise of these cultures will even bother them in the slightest.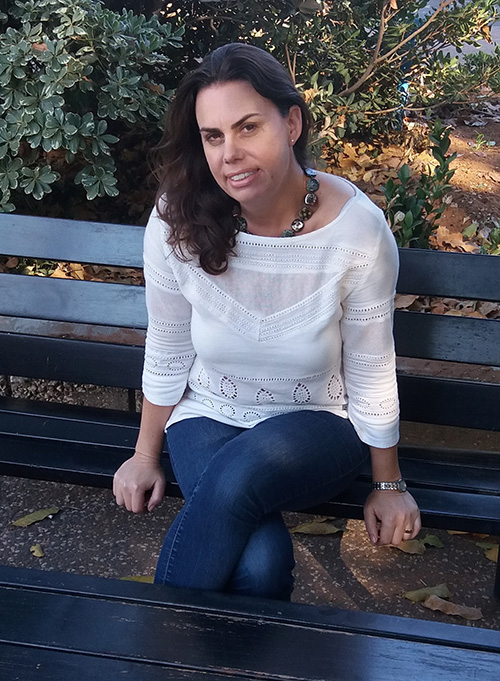 How can this new generation possibly have the bandwidth for retaining historical memory of Jewish communities that feel even more remote and unimaginable to them than Aciman's Alexandria feels to me? There are glimmers of hope. The resurgence of Mizrachi music in Israel is one; for Israeli teens it's the new normal.
And this spring, ANU: Museum of the Jewish People opened on the campus of Tel Aviv University, after a transformation from what was previously the Jewish Diaspora Museum (Beit Hatfuzot). I was deeply heartened to see the Sephardi story fully intertwined with the Ashkenazi one—shining a creative light on yesterday's Alexandria, Baghdad, and beyond.
B'shalom,
Tamar Morad
Sephardi Voices Israel Director
Documenting The Uprooted, Lyn Julius is Preserving Memory & History For The Ages
Few individuals have done as much in recent decades to document the painful history of the demise of the Jewish communities of the Arab world, and publicize the personal accounts that are part of this history, than Londoner Lyn Julius.
Through Harif – the Association of Jews from the Middle East and North Africa, which she launched in 2005, she writes a blog, 'Point of No Return,' and hosts events that highlight the history.
Her 2018 book Uprooted: How 3,000 years of Jewish Civilization in the Arab world vanished overnight (Vallentine Mitchell) is an outgrowth of her blog, and a compilation of additional research and documentation she has accumulated over time. In the three years since the publication of Uprooted, it has become a go-to resource for hard data about the size of Jewish communities of the region, the places in which they lived, the persecution they faced, and the events that led to their expulsion during the 20th century.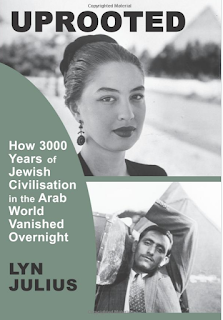 "Reams have been written about the Arab-Israeli conflict, but the story of the Jews from Arab and Muslim countries https://www.harif.org/ remains shockingly neglected," she writes in Uprooted. Relying on personal testimonies from the hundreds of individuals whom she has met and interviewed and historical evidence, her work is attempting to turn the tide and bring to light hidden historical truths.
Formative moments
The seed of Lyn's dedication to the subject may be traced to 1969, when as a schoolgirl she attended a vigil outside the Iraqi embassy in London following the execution of nine Jews in Liberation Square in Baghdad. The tragedy was anxiety-provoking and personal; many relatives were still living in Iraq and counted among the 3,000 remaining members of the Jewish community whose numbers had dwindled from about 140,000 in mid-century. Her parents had fled Iraq for England in 1950, so Iraq was present in her life from the very beginning, but this moment was a formative one. Then came September 11.
"After 9/11, we were all confronted with radical Islam, and for those of us who had experienced it before it became a wake-up call, that we have a role to play in describing encounters with the radicalism of the Middle East and North Africa," she says. Her blog is a rich resource of personal accounts, historical context, maps, photos, and other documentation. Sixteen years after she first sat down at the keyboard with merely an idea and a mission, her posts now number about 6,000.
The concept was "to fix distortions and set the record straight on historical facts, break the myth that Jews and Arabs always had a peaceful coexistence, and stop the revisionist history that the Palestinians are 'the' refugees in the Middle East," she says.
"There were many more Jewish refugees from Arab countries than Palestinian refugees," she adds. "But their story has been largely forgotten by the world for several reasons: because the Jews resettled quickly and well in their new countries, unlike Palestinians who were left by their leaders to languish for generations; because the tragic history of European Jewry subsumed the story of the Jewish refugees from Arab countries; because Israel didn't adequately publicize what happened to these communities in the wake of 1948; and because media attention over-fixates on the Palestinian refugee problem. This is why the story of the Jews of Arab lands is at risk of being totally forgotten. I felt I needed to do my small share to right this wrong."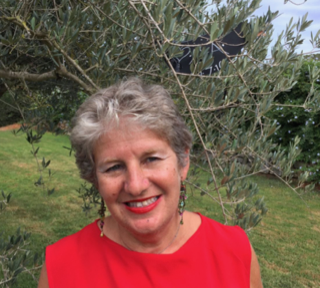 During the coronavirus pandemic, Harif's online 'Lockdown Lectures' have attracted hundreds of new viewers—the silver lining to the pandemic when she has been unable to give in-person talks. Harif's newsletter continues to elucidate the history, and also updates readers on current news about the spare number of Jews left in these countries.
For instance, in April she reported that 13 of Yemen's few remaining Jews were expelled from the country and are now in Egypt. As the Jews who personally recall the expulsions of their communities continue to age and the events recede into history, Lyn feels only increasing pressure to continue to "keep the truth alive," she says.  "We are in a race against time."
BIG NEWS!
March 9, 2021, Community Project Grant Award
Sephardi Voices received its first project grant award from Florida Humanities to present two community based public programs on the Sephardi in Florida.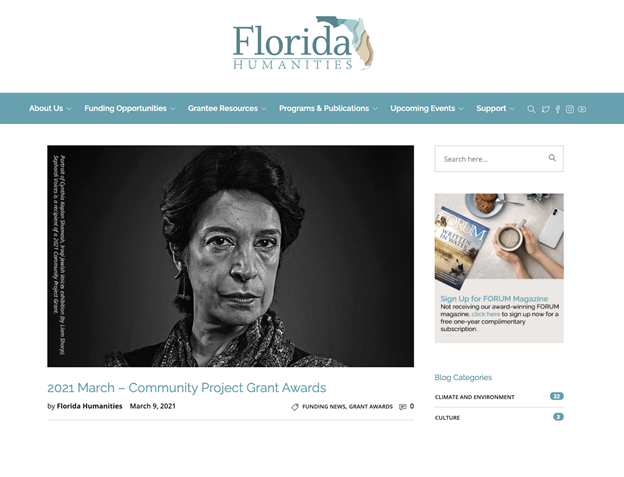 Feb 1, 2021, National Library of Israel, Monthly Update
National Library of Israel Announces Sephardi Voices Project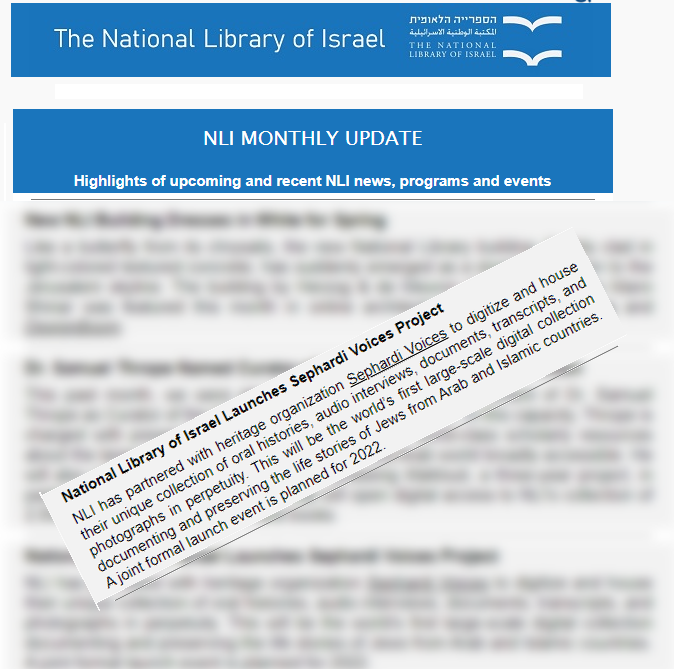 PAST EVENTS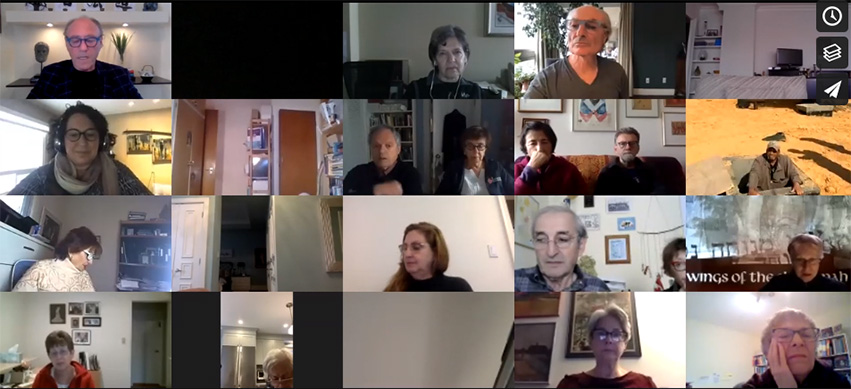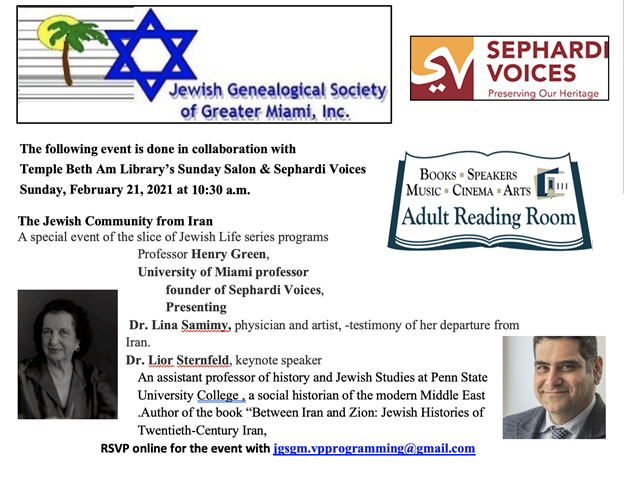 Feb 21, The Jewish Community from Iran
Zoom event with Temple Beth Am (Miami) and SV Executive Director Henry Green, including special guest Dr. Lina Samimy. Co-presented with the Jewish Genealogical Society of Greater Miami.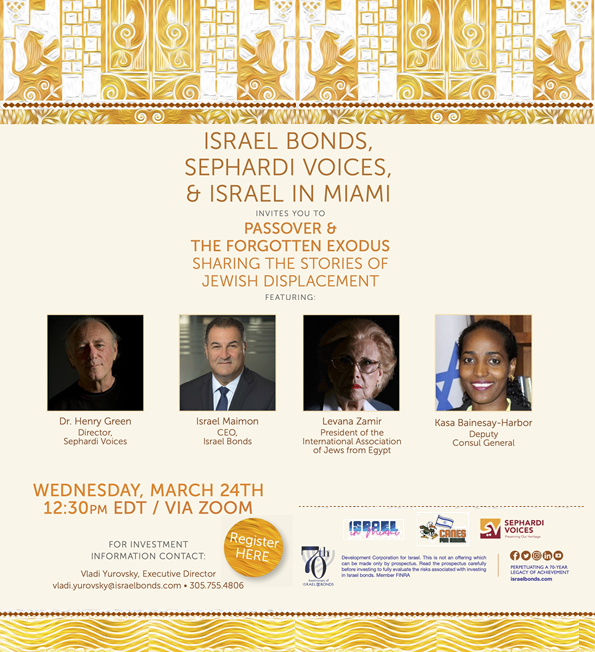 March 24, Passover and the Forgotten Exodus: Sharing the Stories of Jewish Displacement
Israel Bonds, Sephardi Voices, and the Consulate of Israel in Miami presented a Passover Zoom event hosted by SV Executive Director, Henry Green.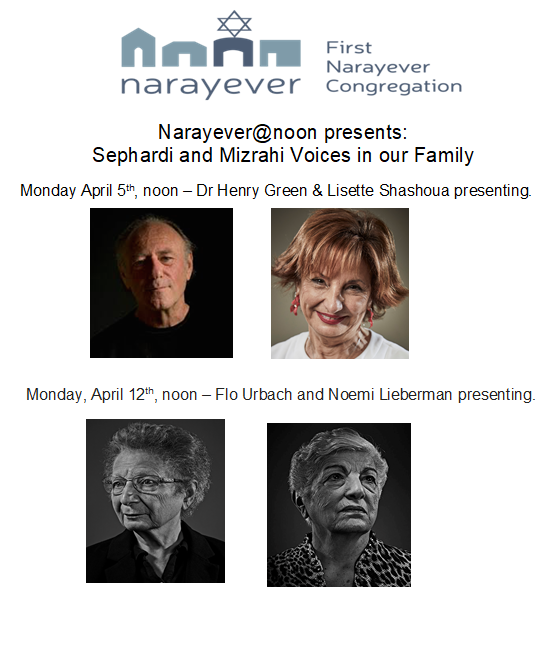 April 5 & 12, Sephardi and Mizrahi Voices in our Family
First Narayever Congregation in Toronto and Sephardi Voices presented a Zoom talk hosted by SV Exec Director Henry Green and featuring the witnesses, Lisette Shahoua, Flo Urbach and Noemi Lieberman.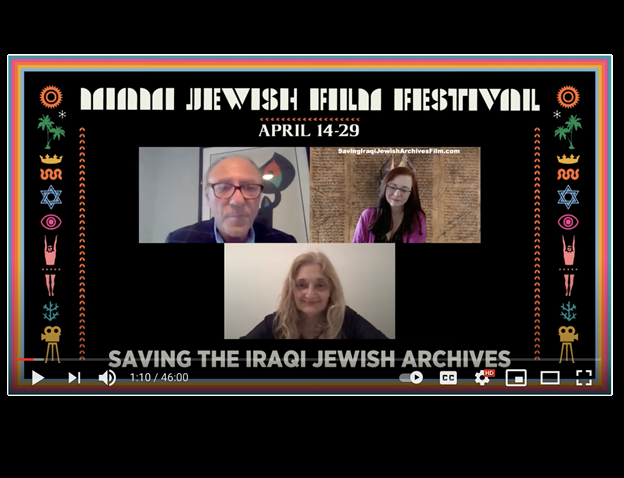 April 14, Miami Jewish Film Festival
SV Executive Director Henry Green in conversation with directors Carole Basri & Adriana Davis for their film "Saving the Iraqi Jewish Archives."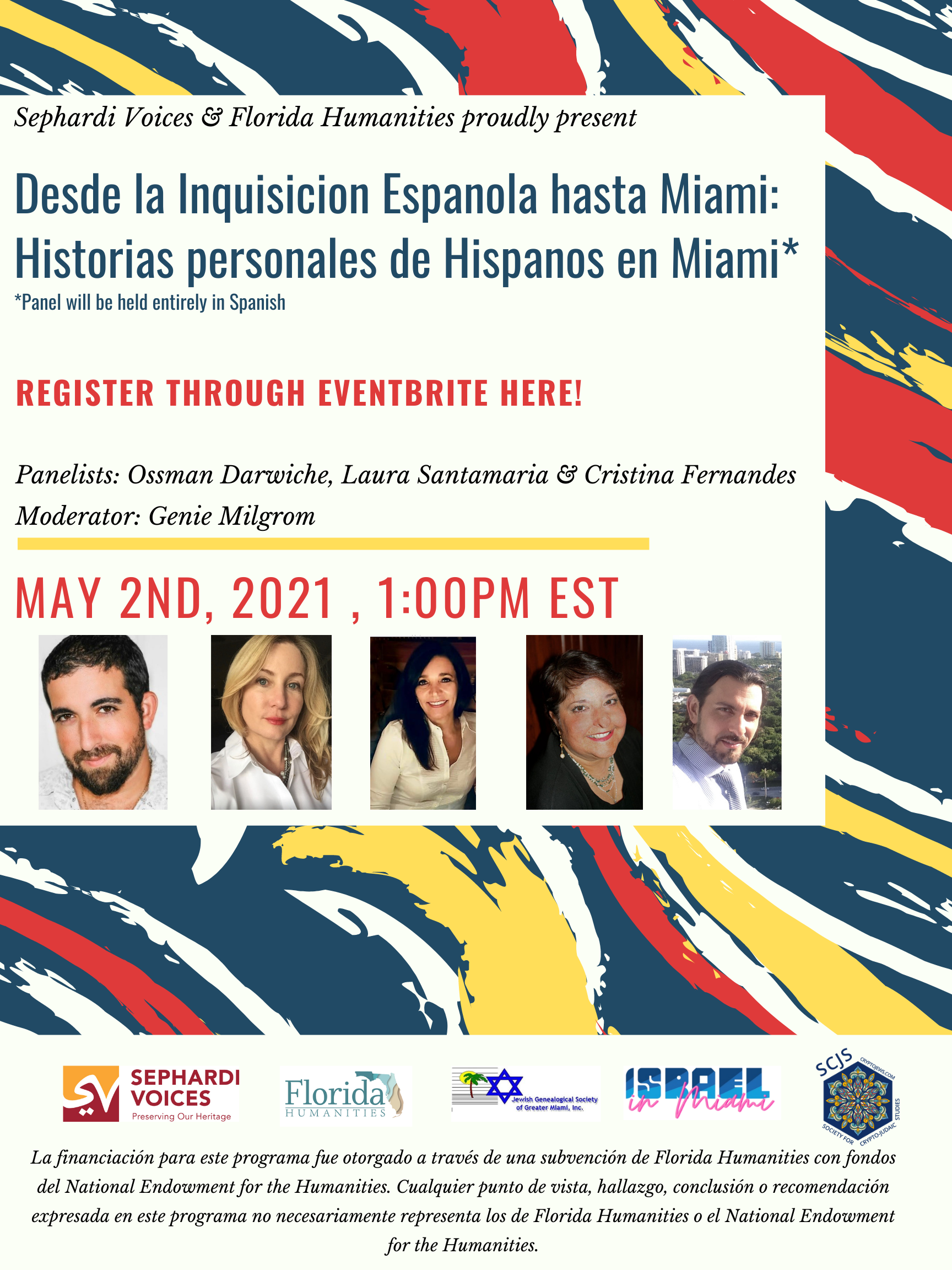 May 2, Desde la Inquisicion Espanola hasta Miami: Historias personales de Hispanos en Miami
Sephardi Voices and Florida Humanities Council presented a zoom event on Florida's Converso and Sephardi communities moderated by Genie Milgrom. This was Sephardi Voices first event in Spanish.